| | | |
| --- | --- | --- |
| | February | |

| | | |
| --- | --- | --- |
| | 2017 | |
Cheesefare Sunday
The last Sunday before the Great Lent, Cheesefare Sunday, is also the last day of preparation.
Our Holy Father Simeon the Outpourer of Myrrh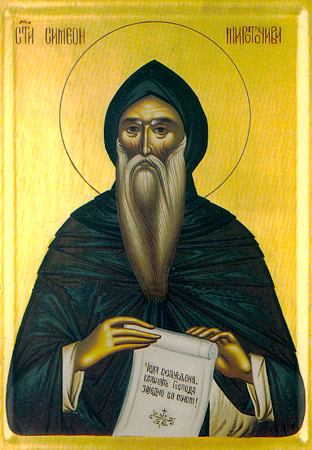 Stevan Nemanja, the great ruler of the Serbian people, unifier of the Serbian lands, creator of an independent Serbian government, defender of Orthodoxy, driver-out of heresy, was first baptised in the Latin Church, but later became a member of the Orthodox Church. In its Organisation, it was at first dependent on Greece, but later shook off this dependence and became completely autonomous. When he had strengthened the state and the Orthodox Church within the state he then, following the example of his son Sava, received the monastic habit at the monastery of Studenica in 1195, being given the name Simeon. His wife Anna also received the monastic habit and the name Anastasia, and retired to a women"s monastery. After two years" monasticism at Studenica, Simeon went to the Holy Mountain. There he stayed at first in the monastery of Vatopedi, together with Sava. Father and son spent days and nights in prayer. They built there six chapels: to the Saviour, the Unmercenaries, St George, St Theodore, the Forerunner and St Nicolas. They bought the ruins of Hilandar and built a beautiful monastery, in which Simeon lived only eight months before his death. When he was at his last breath, Sava, according to his wish, placed him on a simple rush mat. With his eyes fixed on the icon of the Mother of God with the Saviour, the blessed elder pronounced these words: "Let everything that hath breath praise the Lord." And he went to the Lord, on February 13th, 1200.
Our Holy Father Martinian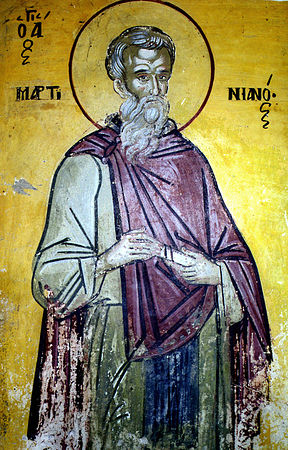 The life of this saint is wonderful beyond measure and is worth reading in full. What did he not endure to fulfill the Law of God? At the age of eighteen, he went off into a mountain in Cappadocia called the Ark and there spent 25 years in fasting, vigils and prayer, and struggling with manifold temptations. When a woman came to tempt him and he saw that he would fall into sin with her, he leapt barefoot into the fire and stood in it until the pain brought forth tears from his eyes and he had killed all lust within himself. When other temptations arose, he fled to a lonely rock in the sea and lived there. When, though, in a shipwreck, a woman swam to the rock, he leapt into the sea intending to drown himself. But a dolphin took him upon its back and brought him, by God"s providence, to the shore. He then decided to make nowhere his permanent home but to travel i
Ss. Zoe and Photina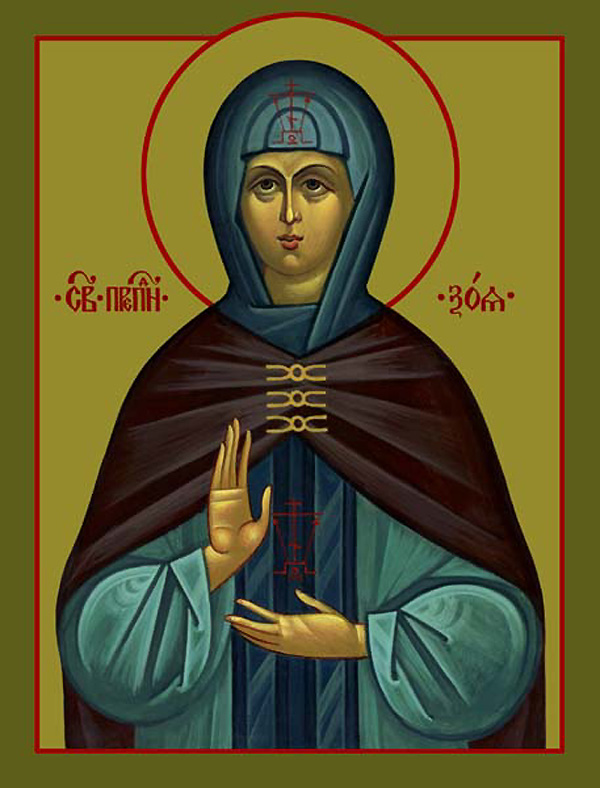 Saint Photina remained on the island, where she spent six years in solitude, and then she gave up her soul to God. Everything about her death was reported by that same sailor who brought her food, just as he had done previously for St Martinian. The sailor brought the body of St Photina to Palestinian Caesarea, where it was solemnly buried by the bishop and clergy. Ss. Zoe and Photina are celebrated on the same day with St Martinian.
St Eulogius the Archbishop of Alexandria

Saint Eulogius, Patriarch of Alexandria, was one of the enlightened hierarchs of the sixth century. At first he was igumen of the monastery of the Mother of God in Antioch, and then in 579 he was chosen as Patriarch of Alexandria, where he served for twenty-seven years. Throughout his life, the saint struggled vigorously against heresies. He was also a friend of St Gregory Dialogus (March 12), and some of their correspondence has been preserved. St Eulogius died in 607 or 608. St Photius quotes from his writings, which reveal an Orthodox theology of the two natures of our Lord Jesus Christ. Only one of his sermons, for Palm Sunday, has survived in complete form.
Apostle and Martyr Aquila, and Priscilla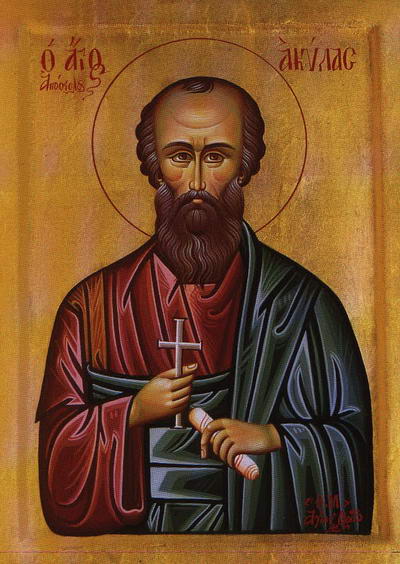 Aquila and his wife Priscilla (or Prisca) were Jews from Pontus who settled in Rome, where they worked as tent-makers. When the Emperor Claudius expelled all Jews from Rome in 49-50, they moved to Corinth. (They may already have been Christians; at that time the Empire made no distinction between Christians and Jews.) In Corinth they hosted the Apostle Paul, who lived and worked with them for awhile (Acts 18:1-3). They worked diligently with the Apostle, traveled with him, and were considered worthy to bring Apollos (December 8) to a full knowledge of the Faith (Acts 18:26)   Priscilla and Aquila returned to Rome around 58, and later went to Ephesus; they were living there when St Paul asked his disciple Timothy, Bishop of Ephesus, to greet them (2 Tim. 4:19). It was probably in Ephesus that they were martyred by the pagans.