| | | |
| --- | --- | --- |
| | November | |

| | | |
| --- | --- | --- |
| | 2017 | |
Holy and Righteous Artemius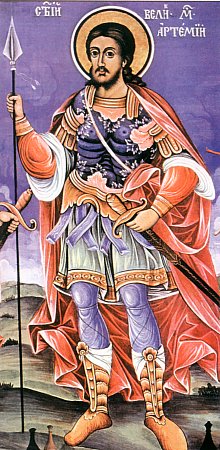 Born in 1532, he was the son of Russian peasants, Cosmas and Apollinaria, from the village of Verkol near Dvinsk. Even at age of five, he was different from other children in his rare piety and meekness. When he was thirteen years old, he went with his father through a great forest, and died there of exposure. His grieving father, unable to dig a grave, covered the body with branches and went on his way. Twenty-eight years later, a man saw a strange light in the forest, went over to it and found the body of Artemius, whole and uncorrupt. It gave healing to many of the sick when they touched it. His holy relics are preserved in a monastery near Pinega, not far from Archangel.
The Holy and Great Martyr Artemius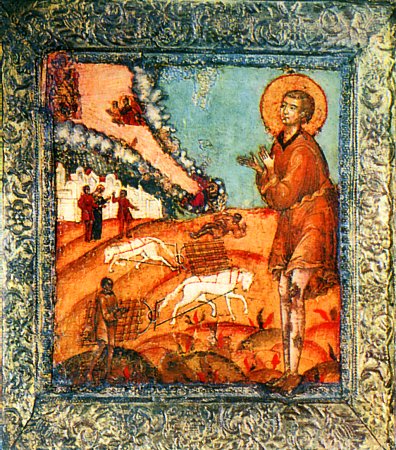 This glorious saint was Egyptian by birth, and the commander-in-chief of the army of the Emperor Constantine the Great. When the victorious Cross, encircled by stars, appeared to the Emperor, Artemius also saw it, came to faith in Christ the Lord and was baptised. Later, in the time of the Emperor Constantius, Constantine"s son, he was sent to Greece to take the relics of St Andrew and St Luke from Patras and Thebes respectively to Constantinople, which charge Artemius carried out with joy. After that, he was appointed governor and imperial representative in Egypt, in which appointment he remained throughout the reign of Constantius and for a certain time under Julian the Apostate. When this renegade Emperor went to war against the Persians, he stopped for a time in Antioch, and summoned Artemius and his army to join him there. Artemius went. At that time, the Emperor gave two Christian priests, Eugenius and Macarius, over to torture. Seeing this, St Artemius was profoundly alarmed, went to the Emperor and said to him: "Why are you so inhumanly torturing these innocent and dedicated men, and why are you putting pressure on them to turn back from the Orthodox faith?" He also prophesied to the Emperor that his end was near. The furious Emperor sent the two priests into exile in Arabia, where they soon died, and stripped Artemius of his military rank, ordering that he be flogged and whipped. All wounded and covered with blood, Artemius was thrown into prison, where the Lord Christ Himself appeared to him, healing and comforting him. After that, the Emperor ordered that he be laid on a flat stone and that another stone be put on him, so crushing his body like a board. Finally, he was beheaded, in 362. The Emperor Julian then went out against the Persians and perished in a dishonourable way, as St Artemius had foretold.
Our Holy Father Gerasim the New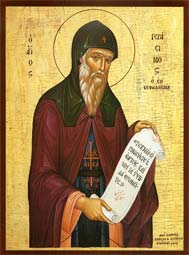 From Trikala in the Peloponnese, of the Notaras family, he was born in 1509. He lived in asceticism on Athos and then in Palestine, where he once fasted for forty days. He then settled on the island of Kephallenia, where he founded a monastery for women. He brought rain by his prayers, healed the sick and had insight into the future. He entered into rest in the Lord on August 15th, 1579, being a wonderworker both during his lifetime and after his death.
Our Holy Father, the New Martyr Ignatius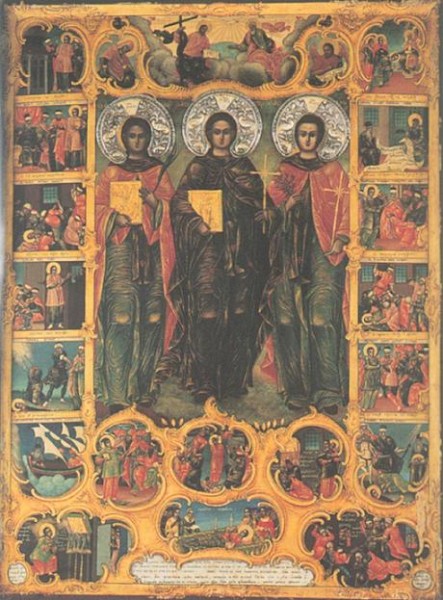 From Zagora in Bulgaria, that famous Zagora that has given the Church so many holy ascetics and martyrs, he lived in asceticism in the skete of St John the Forerunner on Athos. He voluntarily put himself into the hands of the Turks to be tortured for Christ, and was hanged in Constantinople on October 8th, 1814. His relics have wonderworking power, and his head is preserved in the monastery of St Panteleimon.
Venerable Matrona of Chios (1462)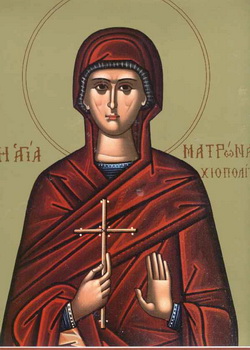 Saint Matrona was born in the village of Volissos on Chios of wealthy and pious parents, Leon and Anna sometime in the fourteenth century. From her youth she showed an inclination for monasticism. One day she left her parents and went to live in an unpopulated area, where she founded a small monastery for women. Soon other nuns joined her in her ascetical struggles...
Martyr Zebinas of Caesarea in Palestine
Martyrs Eboras and Eunous of Persia