| | | |
| --- | --- | --- |
| | November | |

| | | |
| --- | --- | --- |
| | 2017 | |
Our Holy Father Galaction and our Mother Episteme, Martyrs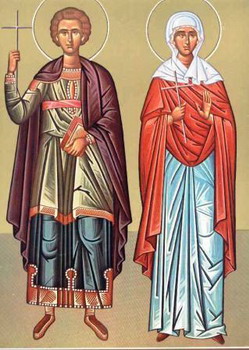 They were born in the city of Edessa in Phoenicia, both of pagan parents. Galaction"s mother was barren until she was baptised. After her baptism, she brought her husband also to the true Faith and baptised her son Galaction, bringing him up a Christian. When the time came for Galaction to marry, his devout mother Leucippe died, and his father betrothed him to a maiden called Episteme. Galaction did not wish to enter into marriage at all, and he quickly urged Episteme to be baptised and then to become a nun at the same time as he became a monk. Both went away to the mountain of Publion, Galaction to a men"s monastery and Episteme to a women"s, and each of them became a true light in the monastery. They were first in labours, in prayer, in humility and obedience, and first in love. They did not leave their monasteries, and neither saw the other until the time of their death. A fierce persecution arose, and they were both brought to trial. While they were mercilessly whipping Galaction, Episteme was weeping, and they then whipped her also. They cut off their hands and feet, and finally their heads. One Eutolius, a man who had been a servant of Episteme"s parents and then a monk together with Galaction, took their bodies and buried them. He also wrote the Lives of these two wonderful martyrs for Christ, who suffered and received their heavenly crowns in 253.
The Holy Apostles Patrobus, Hermes, Linus, Gains and Philologus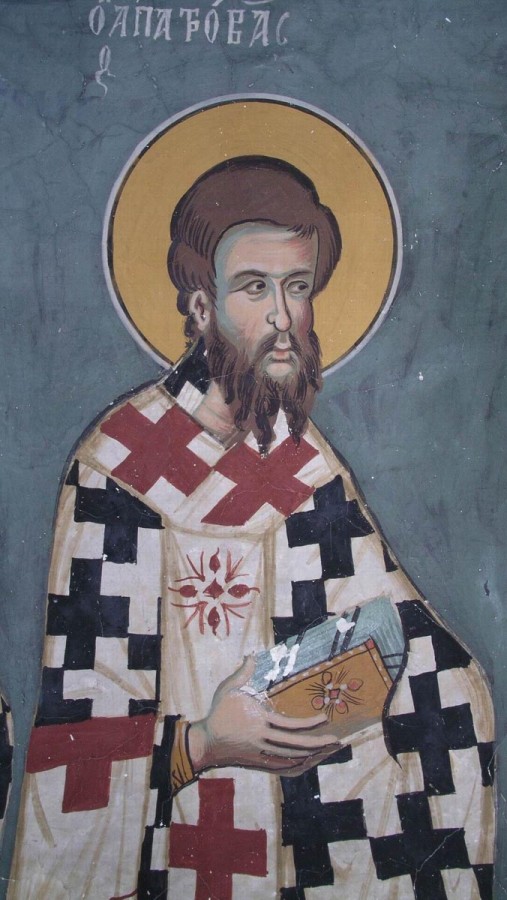 They were of the Seventy. Patrobus was bishop of Neapolis; Hermes was in Philipopolis (Rom. 16:14), Linus in Rome (II Tim. 4:21), Gaius in Ephesus (Rom. 16:23) and Philologus in Synope (Rom. 15:16). All of them fulfilled the Law of Christ with love and went to His Kingdom.
St Jonah, Archbishop of Novgorod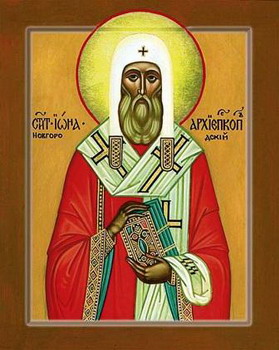 Born in Novgorod and orphaned early, he was taken and educated by a God-fearing woman. Michael the Fool for Christ of Klops saw him once as a young boy and said to him prophetically: "Ivan, my little one, be diligent in your studies, for you will be archbishop in Novgorod the Mighty". And so it came to pass, for later, after the death of Archbishop Euthymius, this Jonah was elected and consecrated to the throne of Novgorod. Jonah was God-fearing and merciful, such as is rare in a mortal man. He built churches and monasteries and cared for his flock as a true and good shepherd. He was offered the throne of Moscow as Metropolitan but declined, excusing himself because of his great age. He entered into rest peacefully on November 5th, 1570, and went to the joyful, heavenly mansions. One hundred years after his death, a great fire broke out in Novogorod. The relics of this holy hierarch did not catch fire among the flames, but on the contrary, began to show healing powers and to give off a sweet and wonderful fragrance.
St. Gregory, archbishop of Alexandria (9th c.)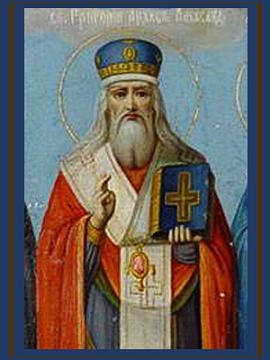 This much-loved shepherd of the Church at Alexandria was unanimously elected to the Patriarchate by the Bishops and people of that city. Though meek and humble, he was a fierce defender of holy Orthodoxy, which was then under attack by the Emperor Leo the Armenian (813-820). For his fearless defense of the holy Icons, Gregory was arrested at the Emperor's orders and brought in chains to Constantinople. Brought before Leo, the holy Patriarch told him clearly that he was a heretic and an enemy of the Church. The enraged Emperor had Gregory scourged, then sent into exile, where he reposed three years later.
Martyrs Domninus and others of Palestine (307)
Martyrs Domninus, Timothy, Theophilus, Theotimus, Dorotheus, Eupsychius, Carterius, Pamphilius, Agathangelus, and Castorus of Palestine. Martyr Domninus died for his faith in Christ by fire in 307 in Palestine. Timothy, Theophilus and Theotimus, from the militia of Domninus. They died being beaten to death by fists. Presbyter Dorotheus, from the militia of Domninus, was torn to pieces by animals. Eupsychius and Karetrius, from the militia of Domninus, died from the cutting off of the hidden parts. Pamphilus, from the militia of Martyr Domninus, died in prison.
Hieromartyr Silvanus, bishop of Gaza