| | | |
| --- | --- | --- |
| | January | |

| | | |
| --- | --- | --- |
| | 2017 | |
The Holy Martyr Anysia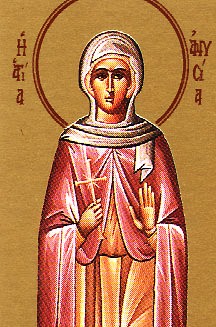 Born in Salonica of wealthy and eminent parents, she was brought up in the Christian faith. She was orphaned young, and gave herself over to pondering on God and prayer in her own home. Fired with the love of Christ, she often said: "Oh, how false is the life of youth, for you either create scandal or are scandalised. Better is age, but oh, I am seized with sorrow at the length of time that separates us from heaven!" She sold her goods and gave away the proceeds to the poor, and herself lived from the labour of her own hands. She kept strict fasts, slept very little and always wept in prayer. When sleep overtook her, she said to herself: "It is dangerous to sleep while the enemy keeps vigil." At that time, the wicked Emperor Maximian issued a decree that any man was free to kill Christians when and where he came across them, without trial or sentence. This holy maiden once went out into the street to go to church. It was the day of a pagan festival of the sun. A soldier saw her fairness of face and went up to her with impure lust, asking her name. She made the sign of the Cross and said to him: "I am Christ"s handmaid, and I"m going to church." When the impudent soldier came closer and began to speak as one deranged, she pushed him away and spat in his face. The soldier aimed a blow at her with his sword, and ran her through under the rib. This holy maiden suffered in 298 and was buried by Christians, and was crowned with a wreath of glory by God in the heavenly Kingdom. A church was built over her grave.
Our Holy Mother Theodora of Constantinople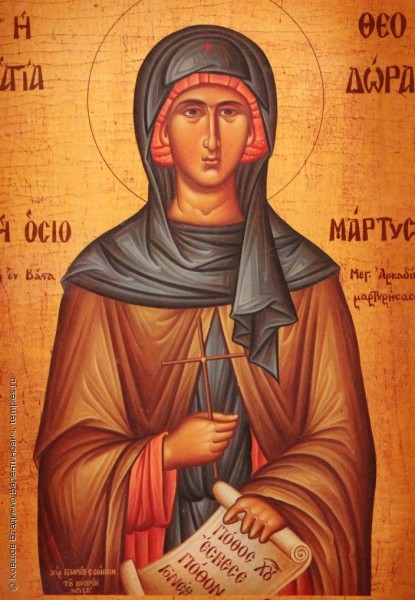 She was a nun and a servant of St Basil the New (March 26th). After her death, she appeared to St Gregory, a disciple of St Basil"s, and wrote down for him the details of all the twenty toll-gates through which her soul had passed until, helped by St Basil"s prayers, she had entered into eternal rest. She left this world on December 30th, 940.
The Holy Apostle Timon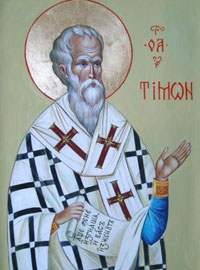 One of the seven deacons (Acts 6:5), and of the Seventy Apostles, he was made bishop of Bostra in Arabia an there preached the Gospel, enduring much ill-treatment at the hands of the pagans. He was thrown into fire, but remained unharmed. He finally died by crucifixion, and entered into the kingdom of Christ.
Our holy Mother Theodora of Caesarea
After strict asceticism in the monastery of St Anna, she entered peacefully into rest in 755.
Our Holy Father, the Martyr Gideon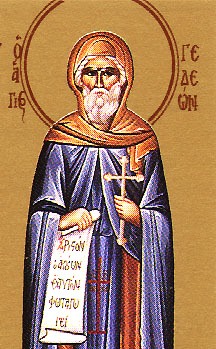 A Greek by birth, of very poor parents, he was forced to embrace Islam as a youth. In remorse, he fled to the Holy Mountain, where, in the monastery of Karakallou, he received the monastic habit. Desiring martyrdom for Christ, he received the blessing of his spiritual father and went to the place where he had been forced into Islam, and there, openly before the Turks, confessed the Christian faith and denounced Mohamet as a false prophet. The Turks shaved his head, placed him upside-down on a donkey and led him through the town. He rejoiced at this ridicule for the sake of Christ. They then chopped off all his fingers and toes with an axe, as they had once done to St James the Persian (Nov. 27th), and finally threw him into a place of excrement, where he gave his holy soul to God in the year 1818, in Turnovo in Thrace. His wonderworking relics are preserved in the church of the Holy Apostles in the village of Turnovo, and a part of them is to be found in his monastery of Karakallou.