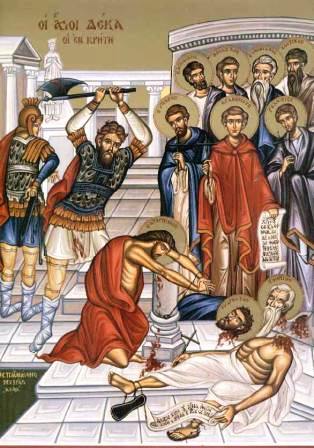 The Ten Holy Martyrs of Crete: Theodulus, Saturninus, Euporus, Gelasius, Eunician, Zoticus, Pompius, Agathopus, Basilides and Evaristus suffered for Christ during the third century under the emperor Decius (249-251). The governor of Crete, also named Decius, fiercely persecuted the Church, and arrested anyone who believed in Christ. Once, ten Christians were brought before him from various cities of Crete, who at the trial steadfastly confessed their faith in Christ and refused to worship idols.
For thirty days they were subjected to cruel tortures, and with the help of God they all persevered, glorifying God. Before their death they prayed that the Lord would enlighten their torturers with the light of the true Faith. Since pain did not influence them, the saints were beheaded.
St Paul of Constantinople (November 6) visited Crete about a hundred years later. He took the relics of the holy martyrs to Constantinople to serve as a protection for the city, and a source of blessings for the faithful.
Apolytikion in the Third Tone
Let us now honour Crete, that land most marvellous, which sprouted forth the ten flowers revered by all, those goodly pearls of Christ our God, those verdant boughs of the Martyrs; for although they were but ten, the most blessed men put to shame the ten thousand armoured host of the wicked demonic ranks. And hence, they have received crowns of glory as stout-hearted Martyrs of Christ Saviour.
Kontakion in the Fourth Tone
Shining like a morning star, the Martyrs' contest, worthy of all reverence, hath shown beforehand unto us Him that was born in a lowly cave, and Whom the Virgin conceived without seed of man.
Megalynarion
Let all the faithful honor with hymns and praise Crete's Ten Martyrs of Christ, who valiantly endured the tortures of the tyrants and shed their blood at the hands of the lawless